BRIDGE Technologies
The entire company group of BRIDGE Technologies has a deep background in the broadcasting, telecommunications and media industries. The advantage of the product is to take into account the two operational areas of broadcasting and telecommunications, and provide IPTV & DTV Monitor solutions for these two different network operators.
The VB series provides end-to-end signal monitoring and analysis methods for digital TV operations in the radio, television and telecommunications industries to accelerate the speed of commercial deployment. Whether it is a project based on traditional HFC networks or a project based on IP networks, VB series products are effective Reduce technical obstacles to project implementation.
The monitoring and analysis of VB series products are not only suitable for the core monitoring of technologically advanced national trunk networks, but also for monitoring complex network edge equipment. The client equipment connected to the front-end server can effectively reduce operating costs Reduce the number of maintenance personnel going out to troubleshoot. Operators can find technical problems in time or eliminate potential problems in advance through the images of the VB product series. As we all know, controlling operating costs and reducing customer churn rates are key factors for the success of digital TV operations.
Through the alarm and display functions provided by the VB series, operators can grasp real-time operating conditions and detailed historical data, and use these data to plan new service projects in the future.
VB series products provide dedicated solutions for monitoring and analysis of front-end, core network, network edge to user end. VB IP-PROBES product design is based on actual operation from the beginning, so all products use the most robust carrier-grade hardware platform.
Digital TV signal and quality monitoring solutions
Traditional analog digital TV technology has reached maturity and stability after half a century. Until today, people still use the technology invented 50 years ago to operate. A practical example is the currently widely used PAL / NTSC / SECAM TV And analog TV transmitters. However, as digital TV technology becomes more and more popular, only by establishing an effective monitoring system can digital TV bring users the same quality and analogous enjoyment as analog signals and eliminate defects such as mosaics.
Both TV users and TV advertisers take it for granted that TV operators should provide near-perfect TV signals. A 10-second signal interruption during a prime time is recognized by the industry as a serious technical error. When operators begin to promote digital TV, regardless of whether the signal is transmitted through cable digital TV (QAM) or terrestrial digital TV (DTT) or optical fiber, users naturally expect the quality and stability of digital TV signals to be equal to or higher than analog TV. In the eyes of users, even a slight drop in quality will affect their viewing experience, thereby increasing the potential churn rate.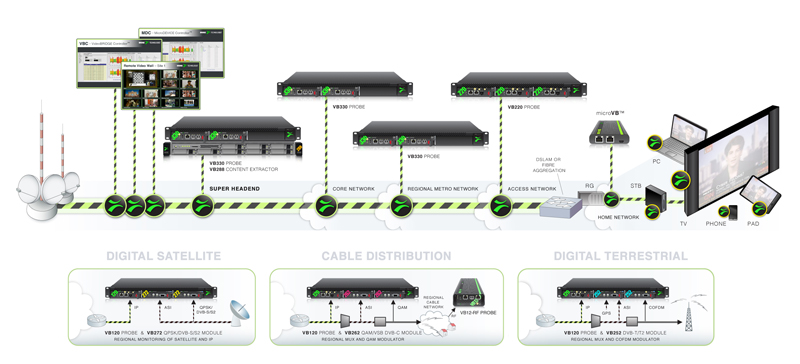 If the digital TV signal quality does not reach this level, regardless of technical reasons or human error, users will feel that the stability of digital TV is problematic. Operators must invest a lot of time and cost to restore user confidence. Negative news reports and users' lack of confidence in digital TV will hinder the advancement of digital TV. To avoid this vicious cycle, operators must proactively monitor signal quality, try to find problems before they occur, and resolve problems in a timely manner. In the operation of the triple play, operators can use BRIDGE Technologies' VB220 and VB120 IP-PROBE probe systems to monitor the status of multicast TV signals at any time with low investment.
---
Bridge Technologies provides the world's most complete digital TV signal monitoring and measurement products