IPTV VOD Server
The IPTV VOD Server emulator provides 7 different SPTS / MPTS IP Stream Generator and supports VOD Protocol. It also supports the RFC4445 MDI test function to provide a complete analog head-end solution for IPSTB, digital audio and video families.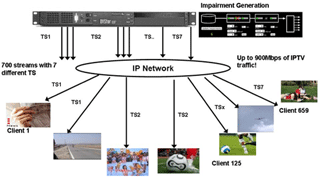 IPTV VOD Server analog headend
VOD Server function introduction
Support UDP / RTP / IGMP / RTSP protocol
Supports up to 7 simultaneous STPS / MPTS outputs, and the highest bitstream output rate is 80Mbit / Sec, which can be applied to the test of IPSTB multi-IP channel switching.
A single SPTS / MPTS can set up to more than 100 different destination IP addresses and transmit them at the same time, and a single device can provide different applications for all departments of the company at the same time.
With 100M and 1G network ports, the highest IP Stream output rate is 900MbIT / Sec
Support real network transmission status simulation, such as packet loss, delay, repeated transmission and other conditions to test the ability of IPSTB error handling.This test can also be applied to RFC4445 MDI detection.
Support the function of synchronous recording or scheduled recording of IP network stream. Or save it to other devices for application.