VisiWave Site Survey
VisiWave Site Survey is a complete 802.11a / b / g / n wireless network coverage search solution. You can use a GPS receiver or a custom navigation device to record the correct location only through a general standard wireless network card.
VisiWave quickly and automatically landmarks radio reports in survey areas or integrates Google Earth maps. This allows you to easily assess your overall Wi-Fi coverage and drill down to specific areas of interest for detailed analysis.
VisiWave is a set of effective tools that are very helpful for hot spots in the city, inside or outside the building, on campus, in the city, already deployed wirelessly or as an assessment in advance.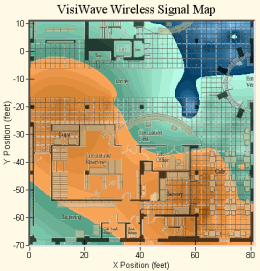 ---
Overview
802.11a / b / g / n Wi-Fi data collected by walking or driving survey area (buildings, blocks, campgrounds, restaurants, airports, campuses, ...)-or Wi-Spy spectrum analyzer can be added for interference Find.
Step 2 Design reports Use the built-in reporting tools to create custom reports, or reuse existing report templates. Or have VisiWave generate KML files for viewing in Google Earth.
Step 3 can generate a report in PDF or HTML format. Or, bring the data to Google Earth 's interactive view to analyze coverage.
The result displayed in step 4! The visualized wireless coverage status is displayed to your boss, customers, peers, communities, etc. for more favorable data sharing ~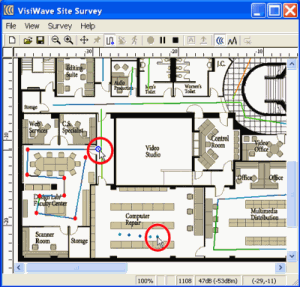 ---
Survey data collection
VisiWave Site Survey is a complete Wi-Fi site survey solution. Site Survey is simpler and faster than competing products, and generates more information about your wireless network coverage.
Site Survey 's data collection process simplifies the use of only one Windows laptopA standardWireless network cardAn image of the survey area.Survey map imageDisplayed on the screen of the laptopJust click on your location as you walkEach time you click on VisiWave, it will correlate the current radio wave characteristics with the location you clicked on the displayed map. You can also use a GPS device to track your location. Just plug in the GPS receiving device and tell VisiWave to start collecting data.
While collecting data, draw a survey area map of your wireless hotspot. You can immediately see all the discovered APs and SSIDs. Select any AP's domain and immediately see the coverage provided by those radio communication devices.
---
Wireless reporting and analysis
The relevant Site Survey data that is very easy to collect only uses the functions provided by VisiWave Site Survey. Once you have collected mountainous information, you need to easily analyze the data. It is by using VisiWave to create reports and analyze your coverage status, or by generating a report using Google Earth Browser to view the report. Either way, you will get a rich and easy-to-understand graph of complex and large amounts of data captured during the Site Survey. This allows you to quickly assess your overall coverage and gain insight into specific areas of interest.
As an interactive analysis tool, VisiWave activates your network environment. Minor changes in your environment can make your data views immediately stand out.
In addition to being able to analyze the survey data of the website interactively, you can easily produce a comprehensive report. Using a standard set of opinions, supplemented by interesting points, you feel that in your analysis, you can create professional-looking reports that record the wireless network coverage of the survey area. In addition to supporting the automatic generation of graphics and tables, VisiWave allows you to analyze your notes, explanations and written field survey results. The report can be published as a PDF file or an HTML webpage. Either way, it is easy to provide your client or colleague with a written survey.
The following are several views provided to you, the investigation report derived from the analysis process。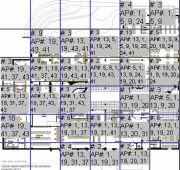 ---
Wi-Fi coverage using Google Earth visualization
Through VisiWave, you can use Google Earth to better understand your wireless network. VisiWave directly generates a Google Earth KML file that can completely describe your WiFi coverage status (Google Earth's free attempt). You can use what Google Earth provides Graphically tilt, rotate, or leap to understand the wireless characteristics of your network.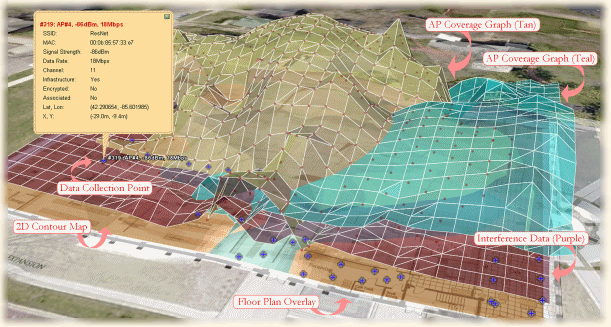 Click on the image above for a larger sample. Or, if you have installed Google earth please Click here View a fully operational sample field survey of Google Earth or Click here See a smaller example.
---
Wi-Spy support
VisiWave tightly integrates MetaGeek's Wi-Spy ™ spectrum analyzer device. After inserting Wi-Spy, VisiWave automatically uses it to get an accurate interference status to investigate the entire area. Or use Wi-Spy to create an interference graph that clearly shows the problem. Then use Chanalzer or Chanalzer to investigate any potential interference locations.
---
Summary
Complete wireless network Site Survey solution
Runs on a standard Windows laptop
Use standard 802.11a / b / g / n wireless network card
Google Earth integration
Support spectrum analyzer for true interference source detection
GPS supports data collection
Activate office buildings, warehouses, cafes, hotspots across the city, campuses, all Wi-Fi deployments
Simple location tracking by clicking on a floor plan image
Intermittent or continuous radio wave data collection
Very cost-effective coverage search tool
Automatically plot your wireless network
---