IPTV Combine 4X
IPTV Complex
IPTV Combine 4X 是一個高集成IPTV伺服器,可應用酒店, 醫院, 教育機構, 電信商, IPTV實驗室等,本產品單一主機內建VOD Server, Middleware, DVB to IP Gateway , billing等,可同時處理高達500個IPSTB 的計費功能, DVB to IP 可接收解碼4個 DVB-S/S2,DVB-T/C 的節目,1台IPTV Combine 4x 最多可同時處理50個節目流,並具1TB硬碟儲存空間.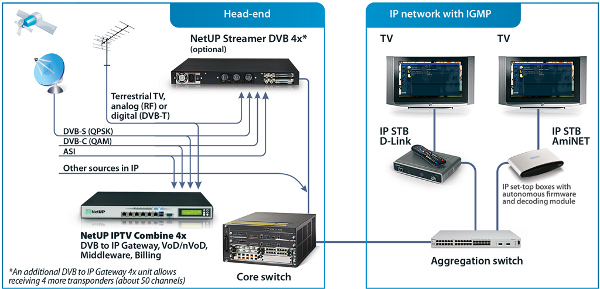 特點:
高集成性: IPTV Combine 4X 的所有軟體均由NETUP開發,整合在單一主機時無相容性問題,出貨時所有軟硬體皆已安裝完成,客戶可快速使用無需再煩心安裝及整合等問題.
IPTV Combine 4X 可同時接收及解碼4個DVB-S/S2 的訊號,相當於50個電視節目.
IPTV Combine 4X 顯示介面採用C++開發,當使用者透過IPSTB進行選單觀看及選擇時,其運行速度遠較使用Javascript/HTML 開發之介面快速.
IPTV Combine 4x Specification
Services:
VoD + nVoD server (Video on Demand + near Video on Demand)
DVB to IP Gateway: 4 DVB-S/DVB-S2 inputs + 4 CI solts
Middleware, interactive user's interface for IP set-top boxes
Electronic Program Guide (EPG)
IP STB firmware update server, DHCP, DNS, IGMP querier, IP router
optional: interface to hotel property management systems
Physical & Power
standard rack-mount case for 19" telecom rack
height: 1U
dimensions (WHD): 430 x 44 x 411 mm
weight: 11.5 kg
power supply: 90 ~ 264 Volts, 47 ~ 63 Hz
Disk Drives
flash card for reliable storage of OS and configuration files
1 TB HDD for multimedia content and database (corresponds to over 400 full-length movies in MPEG-2 4 Mb/s
Inputs/Outputs
6 x Gigabit Ethernet 10/100/1000 Mb/s
4 x CI solts
4 x DVB-S/DVB-S2
or 4 sx DVB-T/DVB-C
or 4 x inputs for modulated TV signal (RF to IP) with real-time encoding into MPEG-2
or 4 x inputs for analog video signal (A/V, RCA) with real-time encoding into MPEG-2
Control & Administration
front panel LCD for initial configuration and system summary information
administration Web interface
administration Java interface
ssh console, Linux 2.6.x OS
RS-232 console
Performance
over 50 simultaneous VoD streams (4 Mb/s per stream). Total VoD bandwidth - 200 Mb/s
satellite TV channels can be received from 4 different transponders at a total bandwidth of 240 Mb/s
Media Content Format
VoD files formats: MPEG-2, H.264 (MPEG-4 AVC) transport stream
recommended bitrate: 4 Mb/s and more
definition: SD, HD (720x576 or higher)
IPTV Combine 4x Hotel 是針對飯店業者提供完整的IPTV 頭端系統,其內容包括
IPTV Middleare/Billing
DVB to IP gateway
VoD/nVoD server
Interface to hotel property management systems (Hotel PMS)
特點
Welcome message on guest check-in
Hotel information page
Auto posting TV services from the IPTV system to the PMS
Express checkout
messages from reception
Room status change via TV(dirty/clean) for the housekeeping service.
支援飯店PMS系統
MICROS-Fidelio hotel property management systems based on FIAS protocol:
Fidelio Suite 6
Fidelio Suite 7
Fidelio Suite 8
OPERA
以下畫面為IPTV Combine 4x Hotel的STB 訊息畫面,抓取自AmiNET 130