Quad Modulator Module - TPG460
Four modules per single rack mount frame. Four channels of QAM, DVB-T and 8VSB modulation per module. 16 channels of QAM, DVB-T and 8VSB modulator take signal from Giga bit Ethernet, DVB-ASI and SMPTE-310M as well as internal MicroSD Card stream file play.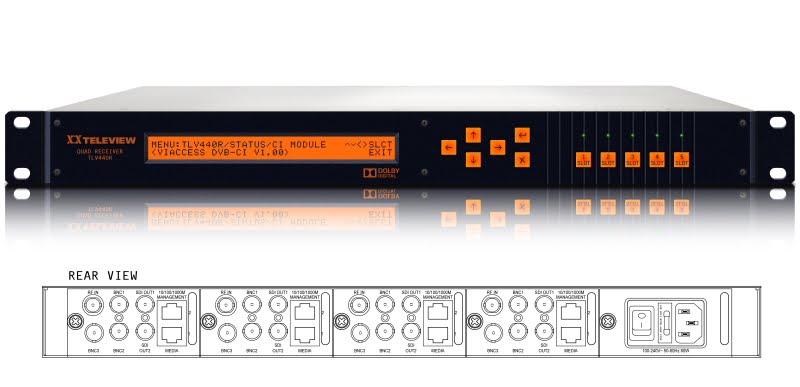 QuadModulator, TPG460, Features
Up to four modules installed in 1RU frame, TLV440R V1.
Digital television RF modulator via TS (DVB-ASI/SMPTE-310M auto detection), IP input and transport stream file play.
QAM, 8VSB, DVB-T/H, DVB-T2, DVB-S/S2, DVB-S2X, DVB-C2, ISDB-T, ISDB-S, ISDB-Tmm, DAB(T-DMB), DTMB, CMMB, ATSC-M/H, 2nd-8VSB, 3rd-8VSB, 4th-8VSB, 2nd-QAM, 3rd-QAM, 4th-QAM, 2nd-DVB-T, 3rd-DVB-T, 4th-DVB-T modulation options available.
IQ_Play modulation options NOT available. DVB-T2, ISDB-S, and Quad DVB-T options do not support IP RX/TX. Dual DVB-T support IP RX/TX.
Programmable RF output frequency 55~2150MHz. (1Hz step)
Programmable RF output level -80 ~ 0dBm. (0.1dB step)
Superposition white noise over modulated signal and control the output C/N ratio.
Four BNC connectors which can be DVB-ASI input, SMPTE-310M input, DVB-ASI output.
TS transmission/reception over IP. (UDP/RTP mode)
Remote control using ModulatorConsole software available for Windows 7/8/10 32bit / 64bit and Linux 32bit / 64bit.
SNMP management supported.
IP FEC supported. (PRO-MPEG parity)
One channel Gigabit Ethernet IP output.
14dB VHF/UHF amplifier option (Model TRF2032) available. (-66 ~ +14dBm, 0.1dB step)
1RU Penta Frame, TLV440R V1, Features
May install five modules per frame.
Up to four modulator module installed.
One 12V 8.5A power supply module installed.