DTV Monitor - TAV910A
The professional DTV monitor TAV910A is based on TLV400S professional receiver and 4.3inch TFT-LCD and 10watt speakers are adopted to monitor decoding status. The TAV-910A demodulates all satellite DVB/ATSC H.264/MPEG-2 HDTV frequencies and supplies crystal clear digital or analog video from all formats used by broadcast professionals in Europe, USA, Canada, Mexico, Brazil, and Korea.
It not only functions as a dual input broadcast demodulator but also works well as a professional H.264/MPEG-2 decoder. The output of the demodulator is available through either DVB-ASI or SMPTE-310M connectors. With its DVB-ASI inputs it is able to decode transport streams up to 40Mbps. Designed to support all the industry standard forms of the DVB/ATSC standard it supports 576i/480i, 576p/480p, 720p and 1080i decoding. Supported video outputs include both digital and analog formats with HD-SDI with embedded audio, SDI, Y Pr Pb, RGB, and composite. Audio output is available through embedded audio, 5 channel XLR connectors, D-Sub 9P connector and BNC connectors.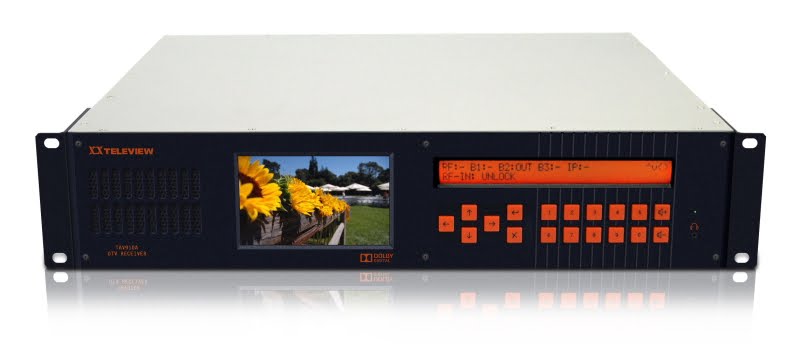 Features
Signal from 75ohm BNC-connector
May choose a digital stream from the satellite and DVB-ASI and SMPTE-310M signal
Selected digital stream is supplied in DVB-ASI and SMPTE-310M format signal
Dual MPEG-2(HD/SD) decoding, single MPEG-4/H.264 decoding (single audio decoding only)
H.264(MPEG-4)/MPEG-2 MP@HL compliant video decoder supplies digital and analog video signal
Digital video signal compliant with SMPTE-259M/SMPTE-292M(SDI) with embedded 8 channel audio(SMPTE-299M)
Dolby digital AC-3 and HE-AAC and MPEG-1/2 5.1 channel audio decoder (MPEG2 AAC-LC(13818-7), MPEG4 HE-AACv1(14496-3. 2003) and MPEG4 HE-AACv2(14496-3. 2004) supported
Dolby digital (AC-3) or PCM stereo audio selectable over BNC Connector
Dolby ProLogic compatible stereo audio output on XLR connector and D-SUB 9P connector
RGB video signal with 1080i/720p/576p/576i(480i) video mode
BISS-1/E and DVB-CI support
PSIP/EIA-608, 708 closed caption compliant
Firmware upgradeable via internet or USB
USB 2.0 support
SNMP (Gigabit Ethernet) management support
TS transmission/reception over IP(UDP/RTP)
FEC support(PRO-MPEG parity)
2Lines by 40 characters LCD display
4.3inch TFT-LCD monitor and 10Watt speaker
2 Rack Mountable Frame
New IP Gateway Option
TAV910A is Gigabit Ethernet IP Gateway product that performs the following:
Five channel ASI to IP Gateway
Five channel SMPTE-310M to IP Gateway
DVB-S/S2 to IP Gateway
DVB-T/T2 to IP Gateway
8VSB to IP Gateway
ISDB-T to IP Gateway
Five channel combination of ASI/310M/DVB-S,S2/DVB-T,T2/8VSB/ISDB-T to IP Gateway
Specification
MPEG2/MPEG4 video over UDP and RTP, factory option
Simulcast and Multicast (IGMP v3)
FEC with Pro MPEG CoP3 - SMPTE 2022
ASI throughput: 216Mbps each
IP throughput: 450Mbps (350Mbps for old TAV910A)
Web based remote control: http and SNMP support
Available Tuner Options
DVB-S+S2, DVB-T+T2, 8VSB+QAM options for 1st and 2nd tuner option
ISDB-T tuner option for 2nd tuner option