EXTRA 3.0
ASTC3.0 High-End Exciter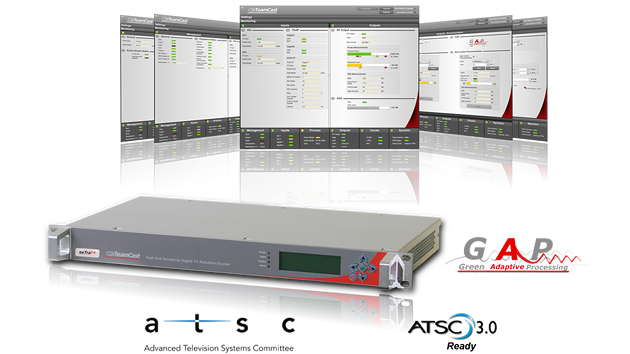 KEY FEATURES
Built-In AGC
DAP with «Green Adaptive Processing»
Embedded Power Measurements Unit
Dualdrive/1+1 Redundancy Features
ASI/IP inputs
Onboard GPS
Up to +20dBm output
Web GUI & SNMP
exTra3.0 is a very innovative and unique solution that supports the new ATSC 3.0 terrestrial TV standard. It has been especially designed to meet the emergent demand from ATSC 3.0 early adopters to perform transmission performance testing as well as field trials.
exTra3.0 comes as a 1-RU rack exciter that supports both ATSC 1.0 and ATSC 3.0 modulation waveforms on the same hardware platform. It meets transmitter manufacturer's demand for integrating a « ready-to-use» and straight-forward high-end exciter within their new ATSC 3.0 transmitter designs.
Fully controlled via a friendly WEB GUI and via SNMP, exTra3.0 features some very unique functionalities dedicated to control the transmitter such as a Power Measurement Unit, the TX power ON/OFF control system and the Automatic Gain Control (AGC) mechanism.
exTra3.0 Digital Adaptive Precorrection circuits, powered by TeamCast GAP® – Green Adaptive
Processing – algorithm, permits transmitters operation very close to their saturation limit, with unequalled RF signal performances and allowing significant gain in transmitter Power Efficiency.