ANTARES
I/Q Player & RF Channel Emulator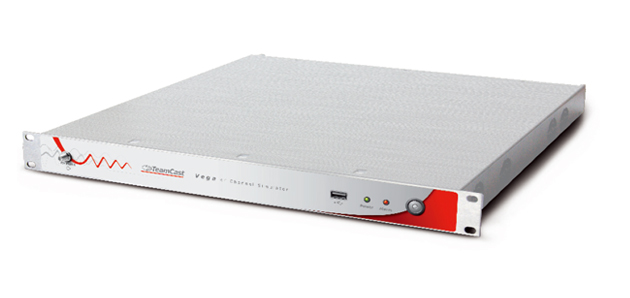 KEY FEATURES
Real time channel profile simulations
Up to 20 adjustable terrestrial paths
AWGN generation (white noise generator)
Adjustable bandwith capabilities from 20 KHz up to 20 MHz
Fading generator
Doppler modes: classical, pure, flat, Gaussian + Rice Doppler profiles
Frequency hopping emulation
Remote control
DESCRIPTION
High performance & Reliability
The ANTARES Product is a Telecom evolution of VEGA Broadcast RF Channel Emulator product. The Telecom market is increasing especially in the standard LTE. The complexity of this protocole requires manufacturers to test intensively their chipsets and/or boards.
Up today, on the market, there are existing T&M products but the prices of these products do not allow the manufacturers to block these T&M products only for some nonregression tests. As the LTE (or WiMax) standards are so much complex, a lot of non-regression tests are required.
The aim is to offer a cost effective product that can perform a minimum set of physical layer tests to ensure the non-regression components. Antares offers, on the same platform, a I/Q player and a RF Channel Emulator. This is the right tool to test and qualify any receivers, like, for instance, any kind of last Telecom standard LTE receivers.
ANTARES includes a RF input and RF output ports, and provides a complete set of channel models, either for fixed or mobile propagation environment. Whatever the standard, with ANTARES, any type of receiver can be tested. Antares can handle the complete testing of any set of modulator/demodulator.
Thanks to its powerful real time process, from your basic original signal (following any modulation standard), ANTARES can perform, for instance, efficient regression testing of LTE solutions to check the good behaviour and the limits of your receiver when multipathes, doppler and Gaussian noise are applied. The ANTARES emulator takes up an ideal place in some automated test set-ups. With ANTARES, a wide panel of laboratories, chipsets and receivers manufacturers have the tool to secure time-to-market, performance, quality assurance for their products and services. Dedicated to Tests & Measurement, Antares exists in Rack form factors for a better installation inside your facility (R&D, Production Lines,…).
The ANTARES RF Channel Emulator supports the high part of the LTE standard : either from 50 MHz to 900 MHz or 2000 to 2700 MHz (depending on the ordering). Covering 20 KHz up to 20 MHz channel bandwidth signals, ANTARES handles the terrestrial channels propagation modes (guassian noise, multipath, Doppler and frequency drift tools). It's compact and easy to use. ANTARES is equipped with a LAN interface – Ethernet 10/100/1000 BaseT. The protocol is based on the IEEE 802.3. It allows a connection to a controller for remote control via a local area network (LAN) and inserts ANTARES inside an automatic testbench thank to the SCPI standard protocole offered by ANTARES.