RT-AV Station
Standalone test station for A/V signal acquisition and proccessing

RT-AV Station is a turn-key solution for A/V signal acquisition and processing, consisting of PC with pre-installed software and RT-AV100 A/V grabber device. Station comes in two versions: RT-AV140 is a powerful Embedded PQM station for real-time A/V processing, while RT-AV110 represents general-purpose test station.
Features
RT-AV Station is 19″ rack device comprised of processing unit (PC computer) and RT-AV100 A/V grabber device. Depending on use-case, RT-AV Station is available in 2 options:
RT-AV110 – Standalone general purpose test station with audio and video acquisition capability suitable for STB/DVD/Blu-ray testing. This test station is perfect match for use-cases in which captured signal is processed offline. Some of example use-cases are functional testing, head-end monitoring and production line testing.<
RT-AV140 – Standalone embedded PQM (Picture Quality Measurement) test station for real-time signal artifact detection of audio and video signals up to 1080p30 (1080i60). Station is aimed for deployment in non-referent systems for detection of blocking, packet loss, black screen and other video artifacts. Test results are available over network using Simple Network Management Protocol (SNMP).
RT-AV140 EmbeddedPQM Features
Video grabbing capabilities: SD (CVBS) and HD (HDMI) signals up to 1080i60
"On the fly" real time lossless compression up to 1080i60 and video streaming
Quality assessment in non-referent video systems
Processing is done inside device and results sent over LAN
Automatic video signal and standard detection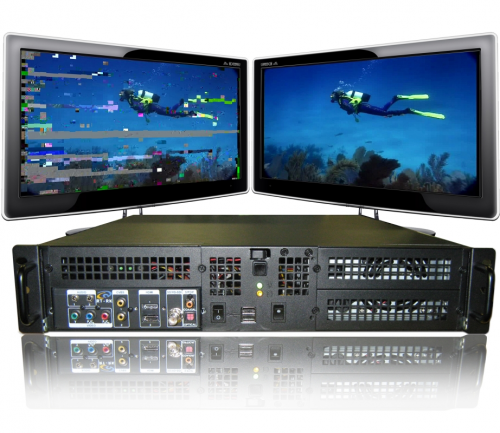 Use Cases
Standalone test station (RT-AV110)
Ideal for testing of devices on the production line
Monitoring of broadcast systems over LAN network
Audio/Video capture device
Automatic systems for multimedia devices verification and testing processes
Automatic systems for offline video quality assessments
EmbeddedPQM (RT-AV140)
Real time video quality assessment of broadcasting signal
Quality assessment of multi-media devices
DTV back-end quality assessment
STB video output quality assessment
Detection of up-scaled SD material to HD (blurring measurement)
Detection of the bad deinterlacer temporal processing (field offset detection)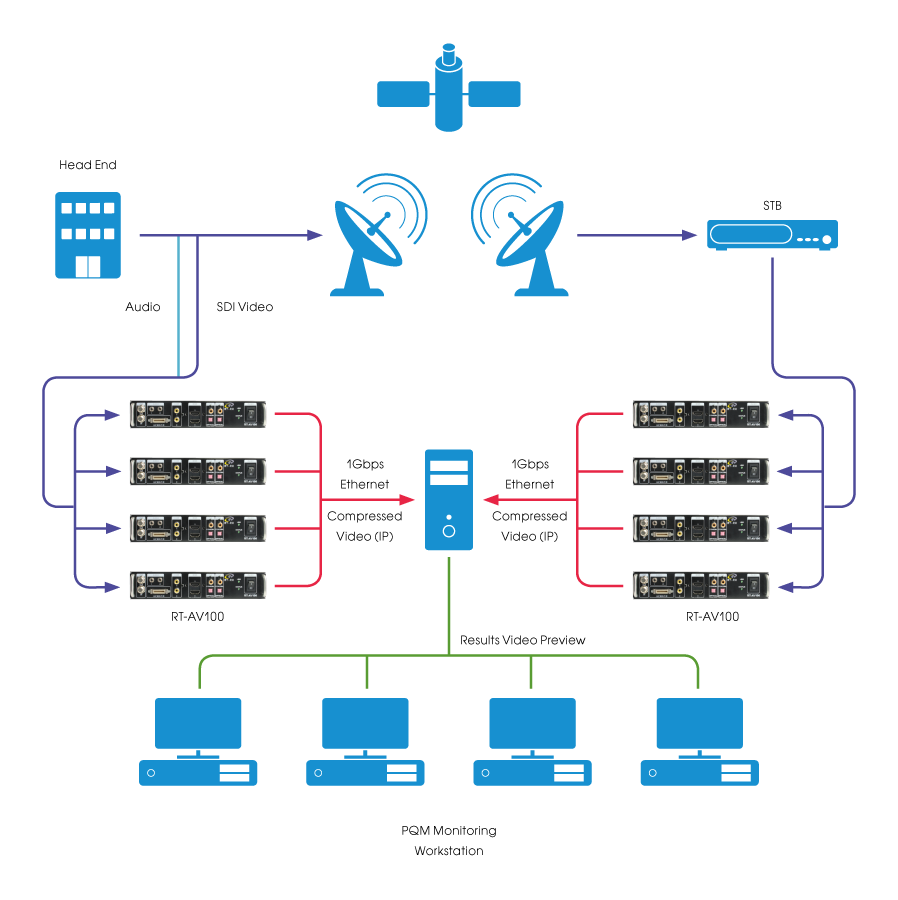 Artifact detection
RT-AV140 station comes with PQM Embedded application which performs real-time analysis of the live signal, registers and shows all detected artifacts in an easy to understand, graphical way. Developer section of the site provides detailed description of each audio or video artifact that may be captured within BBT platform. Some of important artifact detected in live signal are also listed here:
Packet loss and blocking artifact detection related to error in signal transportation media or MPEG2 compression.
Image absence which is defined as zero temporal activity and zero spatial activity for a specified period of time when a known moving video output should be present.
Blurring which is defined as a loss of image sharpness on a static image which persists for a specified number of video frames.
Ringing which is defined as a high frequency noise near edges.
Field loss which is defined as "interlace-like" artifacts.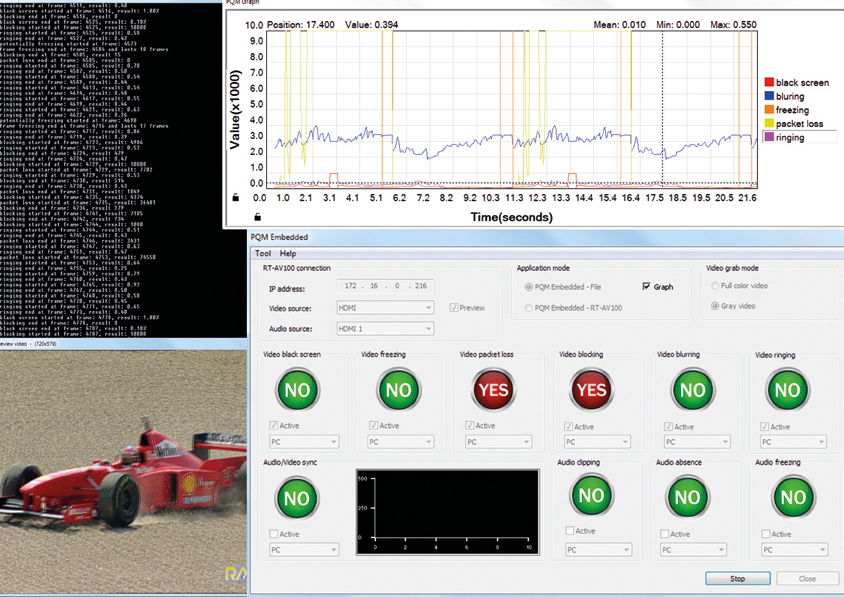 Connectors
RT-AV110 device contains wide variety of analog and digital, SD and HD video connectors, coupled with analog and digital audio connectors for maximal connectivity. Besides connectors, there are two LEDs indicating network connection (LINK) and presence of a signal on selected video/audio interface (STATUS). RT-AV110 has the following connectors:
| | |
| --- | --- |
| | 2 x HDMI input Type A:Two type A receptacle HDMI connectors are provided for two HDMI inputs. Use HDMI wherever possible for the best quality 10-bit uncompressed video input, capture and output. If peripheral equipment has a variety of outputs, look to see if it has either HDMI output or SDI output, and use it where possible. Most today's equipment that offers HD material provides HDMI (Blu-ray players, HD cameras, DTV's, etc.). HDMI supports both standard and high definition video. Simply connect standard HDMI cable to RT-AV110's HDMI connectors. |
| | 2 x Composite (CVBS):BNC connectors support composite NTSC or PAL input and output. Connect an NTSC or PAL composite video cable from a VTR, Camera, or other source to the Composite In BNC. Composite video signals are A/D (input) and D/A (output) converted (10-bit). RT-AV110's high quality analog RCA type connector can be used for NTSC/PAL capture of composite video. Composite supports standard definition video. Simply connect an RCA cable to RT-AV110's yellow composite RCA connector. |
| | 2 x Analog stereo audio input on 3.5mm TRS jack:RT-AV100/101 includes dedicated connectors for analog audio capture using 3.5 TRS jack connectors. Use this input when connecting RTAV110 to DVD players, TV's, etc. Simply connect standard stereo audio cables to RT-AV110's audio connectors. |
| | 2 x S/PDIF coaxial (RCA):Coaxial RCA connector provides access to digital audio. A common use for the S/PDIF interface is to carry compressed digital audio as defined by the standard IEC 61937. This mode is used to connect output of a device such as DVD player to a home-theater receiver that supports Dolby Digital or DTS surround sound. Another common use is to carry uncompressed digital audio from a device such as CD player to a receiver. Simply connect standard digital audio cables to RT-AV110's RCA audio connector. |
| | 2 x S/PDIF optical (TOSLINK):TOSLINK connector provides access to digital audio. A common use for the S/PDIF interface is to carry compressed digital audio as defined by the standard IEC 61937. This mode is used to connect output of a device such as DVD player to a home-theater receiver that supports Dolby Digital or DTS surround sound. Another common use is to carry uncompressed digital audio from a device such as CD player to a receiver. Simply connect standard digital audio cables to RT-AV110's TOSLINK audio connector. |
| | Multi A/V input (SCART, Component, S-video):RT-AV110 includes Multi AV (Mini Delta Ribbon) for connection with different standard video and audio outputs (SCART, YPbPr, RGB, S-Video, etc.). Besides the capturing of video and audio content, over these specially designed cables (break out cables) we are able to measure some electric values (voltages on SCART pin 8 and 16, etc.). Simply connect break out cables (Figure 2) to the RT-AV100/101's Multi AV connector. |
| | LNB in/out: F-type connector:RT-AV110 antenna F connectors connect to RF input/output of a STB. That connection enables measurement of some electric values (LNB voltages, loop through voltage, etc.). Simply connect RF input/output of a STB to the RT-AV110 antenna F connectors. |
| | Ethernet connector:Standard RJ-45 LAN connector is used for connecting RT-AV110 to a local network. Ethernet connection is used for either streaming of live video from a capture device in reduced resolution, transferring snapshot frames in original resolution or streaming of audio data captured from any of the audio sources. Besides capturing purposes, Ethernet connection is used for a firmware update of the device, and network configuration (like static IP addresses or usage of the DHCP). Simply connect network cable to RTAV110 dedicated Ethernet connector placed on the back panel. |
| | 2.5mm stereo jack for remote controller (IR dongle):2.5mm stereo connector is used for connecting IR dongle remote controller emulator (Figure 3). It is a control device used only for transmission of infrared remote commands. Simply connect 2.5mm stereo connector of IR dongle remote controller to RTAV110 dedicated input placed on the back panel. |
Interfaces
Capture of SD, ED and HD video content up to 1080p60
Wide variety of digital or analog A/V sources (SDI, HDMI, YPbPr, S-video and composite, S/PDIF coaxial, S/PDIF optical)
On-the fly real time lossless compression up to 1080i60 and video streaming
Capture of digital or analog audio
Measurement of electrical values:
LNB Voltage
Analog Video signal level
Analog Audio signal level
SCART interface (pin8/pin16)
Measurement of LNB frequency
Support and compliance with consumer and professional audio and video standards
Allows easy image capture or video streaming of multiple A/V signals into single computing server
Automatic video signal and standard detection
Technical specifications
Interfaces

Digital Video Input
HDMI, SDI*
Analog Video Input
Composite, Component, S-Video, SCART
Supported HD Format
720p50, 720p59.94, 720p60, 1080PsF23.98, 1080p23.98, 1080PsF24, 1080p24, 1080PsF25, 1080p25, 1080PsF29.97, 1080p29.97, 1080PsF30, 1080p30, 1080i50, 1080i59.94, 1080i60, 1080p50 and 1080p60
Supported SDI Format
HD and SD SDI Receiver, with complete SMPTE Video and Audio Processing, as per SMPTE 425M, 292M and SMPTE 259M-C
Supported SD formats
625/25 PAL, 525/29.97 NTSC and 525/23.98 NTSC
HDMI Compliance
HDMI 1.3
Multiple Rate Support
SDI, HDMI and component analog video connections are switchable between SD and HD. SDI switches between 270 Mb/s standard definition SDI and 1.5 Gb/s HD-SDI
Video Sampling
4:2:2
Color Precission
10 bit
Color Space
4:2:2 YUV
HDMI Audio Input

S/PDIF PCM, Dolby Digital and DTS
IEC60958 or IEC61937 compatible

Analog Audio Input

ADC – stereo system input and output (Stereo Audio, 24-bit, 96kHz, Multi-bit Sigma Delta ADC and Stereo 24-Bit, 192kHz, Multibit Sigma Delta DAC),
Multi channel I2S standard 4 signals interface (in and out)
S/PDIF

LAN
1000BASE-T Ethernet

Extras

Operation mode
PC controlled
System monitoring
PC application
Power supply
integrated in platform cover with passive cooling 120-240V 10W
OS Compatibility
Microsoft Windows XP SP3, Windows 7
Dimensions (LxWxH)
267x220x47 mm (single RT-AV100 unit)
*Optional
Package content:
RT-AV110 device
CD with utilities and documentation
Control software (Utility application or RT-Executor Application)
Cables (HDMI, LAN, power and custom made multi AV input cable)
Software:
Stand-alone PC application for controlling RT-AV110 device with included device driver
RT-Executor with included device driver