PROTECTOR™ Firewall
Full Network Security - VPN Firewall Appliance
Best UTM SSL VPN - Web Filtering - Anti Spam
Secure & protect your network from remote and local attacks.
With the Protector UTM VPN Firewall you can protect your whole network.
High Powerful 64 Bit Multi Core UTM Firewall.
Content Filtering - Anti Virus - IPS
You get State of the art Next Generation Firewall, VPN with IPsec, Best Anti Spam with less false positives.
Is the Protector UTM Firewall the right solution for me?
Made in Denmark - Secure Design - All Data only at customer site - No Date collected.
Powerful 64 Bit Virtual, Hardware appliances.
Virtual 64 Bit Hyper-V, ESXi & Linux ISO.
High Powerful 64 bit multi core CPU support
Multiple Anti Virus engines: ESET, ClamAV, Kaspersky & BitDefender.
SSD harddrive for increased speed.
Full mail archive functionality store all incoming and outgoing mails.
Full Microsoft Active Directory / LDAP support for web file and anti spam quarantine.
Multi User quarantine support.
Vulnerability Scanner included.
Cost effective all modules & support included in price.
High speed Firewall, Content Filter, IPS, VPN.
Content Filter: Block P2P, VoIP, Games,
Traffic Shaping with priority capability.
VPN tunneling, IPsec, SSL VPN.
DLP Data Leak Prevention.
Better spam scanning full content and advanced RBL lists.
High Availability Master, Client Support.
Not limited to ASIC CPU structure and limited upgrades.
Quarantine for different policies if required.
Every day 24/7 Live Chat Support.
Fast deployment with setup wizard guides.
To find pricing please click to visit the online web shop store or locate a partner for local support.
Optimize and make a priority of your traffic with the Bandwidth Management module.
Best Anti Virus Scanning with multiple engines for most comprehensive scanning. Web Proxy and Web Filtering.
Easy Graphics User Interface GUI and live chat support is included.
No backdoors - No information collection - All data stored at customer location.
Prices for Protector SFF - Firewall UTM Appliance for small to medium
Click for Virtual Software Protector UTM Demo
Protector Model Matrix Click here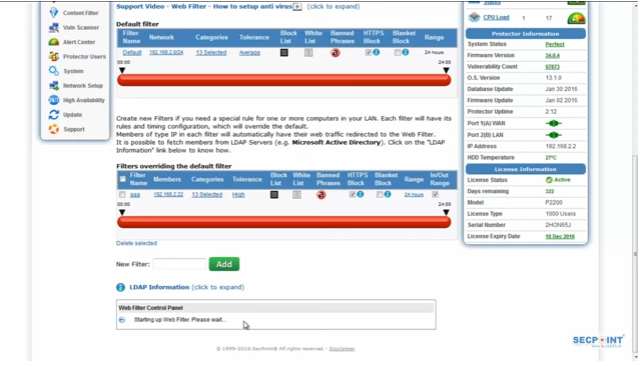 Key features of the Protector UTM Firewall
The Protector is an all-in-one solution, with a high number of features at a single price.
The Protector is actively developed, with an eye to the customers' direct requirements.
We do new big software updates based on customer requests.
Options are also built on some customers' requirements.
Nobody of bigger competitors develops the customers' specific requirements on projects.
Best Protector UTM Firewall Sitemap
Key UTM Firewall Points
More AV engine we got 3 (ClamAV, Bitdefender, Kaspersky) Others max 1 AV engine.
All models comes with a fully featured hard drive Minimum 300 gig size. In Larger models with SSD for increased speed.
In many competitors you only get 32/64 gig flash and only larger models support hard drives but they get very expensive.
Full mail archive incoming /outgoing mails and all users can login individually to quarantine. Even sync with Microsoft Active Directory / LDAP on Linux.
All data at client site, no data collected. No backdoors.
Multi user cloud login for cloud spam scanning service
Full Microsoft AD Ldap for integration for Web Filtering, Anti Spam.
Better spam scanning since we have the full content of the mail to scan.
Multi user login for Anti Spam each user have space on quarantine for different policies if required.
All modules included at 1 cost, support, updates.
Not limited to ASIC structure but real Linux server system that allows for full future upgrades.
Other competitors can have shorter life cycle since they are limited to flash and asic structure. We have a full feature Linux server system.
No software limits for performance or locking of VPN tunnels. Only limited to Hardware specs and on virtual to CPUs.
Email Threat Protection
The Protector is a Unified Threat Management solution with a multi-featured email threat protection.
Stop viruses, Trojans, Spyware and other Malware
Integrated with Bitdefender and Kaspersky Anti-Virus engines, SecPoint provide best Virus Protection.
On Board Mail Server
Comes with fully loaded email server
Save cost for local mail server
IMAP / Webmail / POP3 support
Multi layer Email Protection
Deploy the Protector UTM Firewall as a Microsoft Hyper-V 2.0 or 3.0 Image. Works for Hyper-V 2008 and earlier
Also works on Hyper-V 2012 R2 and newer.
Protector Firewall includes SSL VPN with IPsec 0 3des-md5 and Client to LAN VPN with PPTP, L2TP IPsec/
Integration with Microsoft Active Directory.
Captive Portal
Pre-authorized accounts or Facebook-Like login
Account validity based on expiry date/time
Redirect after login
Multiple devices connected
Automatic logout after timeout
All parameters customizable
Transparent or non-transparent proxy mode
HTTP and HTTPS protocols supported
Usage statistics
Compatible with the Web Filter
Automatic heartbeat synchronization for High Availability.
Connect more Protector units together for maximum stability and security.
If one unit fails the other unit can automatically take over as master unit
With Microsoft Active Directory it is possible to block Facebook based on username.
Learn more about SecPoint Protector Firewall. Secure your entire network for remote threats.
Both local and external threats. It comes with advanced Anti Virus, Anti Spam. Web Filtering with grouping policy.
Full Microsoft LDAP Integration. Next Generation Firewall with VPN. Advanced Content filter. Easy to install as an appliance solution or you can deploy as a Virtual software version.
SecPoint Protector UTM Firewall VPN
Description: The SecPoint Protector is a UTM (Unified Threat Management) appliance designed to protect your system in every way possible.
While the Penetrator mostly works to simulate hacker attacks to better your network defenses, the Protector is more of a shield that uses the information the Penetrator provides to build improved security measures.
Multiple Anti Virus Scanning Vendors Running
See the video of the Protector UTM Appliance - 3 Anti Virus engines Scanners running at once.
Scan your mails with Kaspersky, Bitdefender and ClamAV.
Get the best Ant Virus scanning for incoming and outgoing scans
Bitdefender, ESET, Kaspersky are rated in the top of commercial Anti Virus vendors. When combining with the best Open Source Anti Virus Vendor ClamAV it gives the customer the best overall security scanning for virus.
You can enable all 3 scanning vendors at the same time to make sure all your emails both incoming and outgoing get cleaned for any virus, malware, spyware or worms.
It is recommended to run with all 3 vendors enabled at the same time.
It is easy to enable all 3x anti virus scanners at the same time
You simple upload the license keys or type the key code.
Once it has been activated it just requires few clicks to enable.
The Anti Virus scanning will happen automatically.
You can also just run with the open source ClamAV if you do not want the extra cost for the commercial Anti Virus vendors.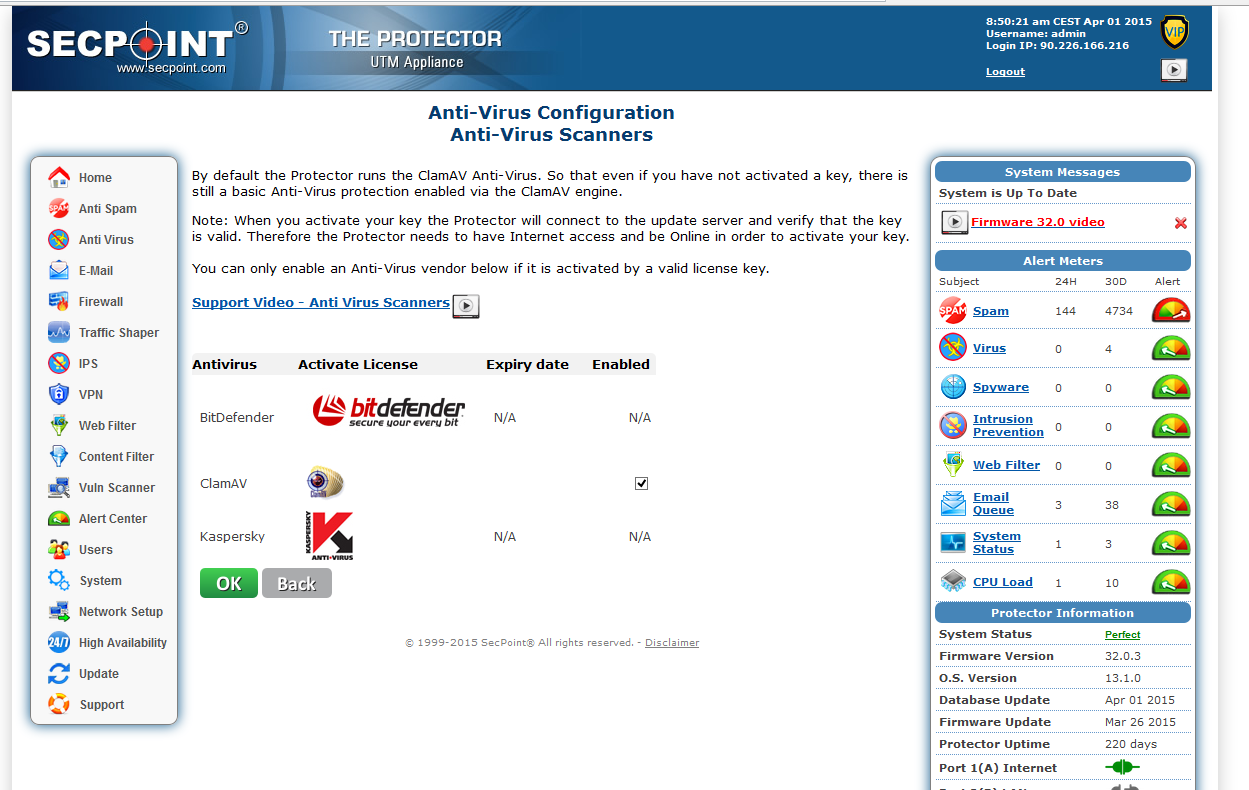 Cost Effective Firewall Appliance
The SecPoint Unified Threat Management (UTM) Appliance known as the SecPoint Protector provides the following perks that will help ensure your network's safety:
Content Filtering, Wi-Fi Defender, Next Generation Web Filtering, Anti-Virus, Anti-Spam, VPN, Firewall Appliance and Firewall features.
It works under the school of thought wherein the fewer harmful malware could enter your system, the less likely it would get compromised.
SecPoint Protector is "unified" in the sense that it offers services that are traditionally standalone under one jam-packed device.
People usually avail of their firewall, antivirus, and Wi-Fi security solutions separately.
The Protector is a better option because all these services can actually work hand-in-hand in defeating the threats regularly found on the Internet.
Every last attribute and service of this UTM device is well-coordinated in achieving their goals.
There are some security programs that tend to slow your computer down if you run them all at the same time.
There are also times when your firewall software will insist on becoming your anti-spam and anti-virus provider as well, thus causing problems with your existing anti-virus and anti-spam solutions.
You won't be facing such difficulties with the UTM protection scheme of the SecPoint Protector.
Every software and app within this appliance has been specifically developed to work together in order to individually focus on the threats they're supposed to get rid of without getting in each other's way.
This is significant because this helps reduce instances of system resource hogging thanks to competing security programs. UTM is the perfect solution when it comes to managing your defender apps and security measures.
Full Features 64 Bit UTM Appliance
What's more, while SecPoint is hardly the first or last UTM appliance provider, they're even better than the closest competition simply because they handle threats in a more specialized manner. Instead of a firewall doubling as an antivirus or vice-versa, the SecPoint Protector deals with threats one at a time, so you're assured of premium-grade, concentrated protection that's thorough and doesn't let one iota of spam, viruses, botnets, worms, Trojans, spyware, and other types of malware to invade your system and turn it upside-down.
Most companies attempt to be jacks-of-all-trades, trying to do a hundred things at the same time, yet are unable to master any of them. Meanwhile, SecPoint specializes in dealing with each and every last threat, so you're assured of quality software defense all-throughout that's fully focused.
See Video with Protector UTM Firewall that gives you complete UTM.
You can easily install it on your network and get complete network layer 7 protection.
Best Anti-Spam & Anti-Virus
Web Filter & Caching Proxy
Content Filtering & IPS
Internet Filter HTTP Web Proxy
Unified Threat Management
SaaS Software as a Service
Cloud UTM Unified Threat
DLP Data Leak Prevention
IPS, Full Mail Archive
All Modules Included in Price
Archive incoming mails
VPN Firewall
Time Based Web Filter
Mail Backup
VPN tunneling, IPsec, PPTP.
Wifi Defender
Incoming & Outgoing Scanning
Firewall UTM VPN Appliance
Anti Spam Daily Quarantine
Microsoft AD LDAP Integration
Protector - Network Security UTM Firewall - UTM Web Filter Appliance
Get full protection of your whole network with complete security UTM Firewall.
Secure incoming and outgoing traffic to your network.
Prevent and secure Spam,Virus,Hackers,Worms from entering your network with Protector UTM Firewall!
Protector secures your network from spam, virus and security problems for the entire network with one appliance!
Full mail Archive stores all incoming and outgoing mails on the hard drive.'
Secure your entire network Protector UTM Firewall Appliance.
Secure internal and external network.
New Firewall VPN Features includes
Alert Center
System Status
Firmware Update
Alert Level