We challenge your product security by using thorough and inventive testing to discover security weaknesses
Our mission
Riscure challenges the security of chips and devices by using thorough and inventive testing to discover security weaknesses. Use Riscure and find out how strong your security really is. Our international team of experts combines the latest attack techniques on hardware and software to explore the strength of your product. We can evaluate it for you or you can purchase our test equipment to do it yourself.
A strong focus with a global impact
Riscure evaluates the security of chip technology and embedded devices that are designed to operate securely in any environment. We are the leading security test lab for chips and settopboxes deployed in the pay-tv industry. Riscure is also international market leader in providing test equipment for side channel robustness of chip technology. Riscure's equipment is used by chip manufacturers, government agencies and security test laboratories all around the world.
---
Discover our market leading security test tools
Our tools cover all aspects of side channel, fault injection, white box crypto and java card testing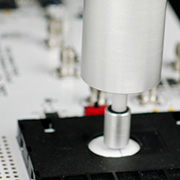 Detailed control, high quality measurements and reliable results. Custom hardware and intuitive software offer optimal results for side channel analysis on any device.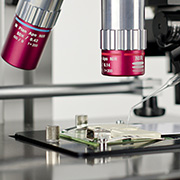 Our cutting-edge hardware and advanced software features the most accurate and reliable fault injection tools available on the market.

Meet our java card security test tool with strong R&D capabilities
---
Security Services, Certification and Training
Embedded device security is a moving target, a cat and mouse game between developers and attackers. Through advanced R&D we stay ahead to deliver you highly effective security assurance across the product development path.