Napatech NT100E3-1-PTP
1-PORT 100G PCIE GEN3
2 × 100 Gbps PACKET CAPTURE AND ANALYSIS
Use cutting-edge network acceleration technology to add real- time line rate performance to your application. Napatech 1-port 100 Gbps accelerators provide full packet capture and analysis of network data at 100 Gbps with zero packet loss. The Napatech accelerator will capture all frames, including erroneous frames normally discarded by standard NICs.
The Napatech accelerator allows you to merge data from ports into a single, time-ordered analysis stream. It supports 1-128 packet streams using intelligent hardware flow distribution to allow your application to scale to higher packet rates with no packet loss. The Napatech accelerator will distribute packets based on flow or on L3/L4 filter criteria.
The 8 GB DDR3 RAM buffer allows buffering packets on the accelerator to prevent packet loss during peak server loads. Packets are hardware timestamped when they arrive at the network ports, ensuring that the timestamp is always reliable.
The accelerator also comes in a NEBS level 3 compliant variant.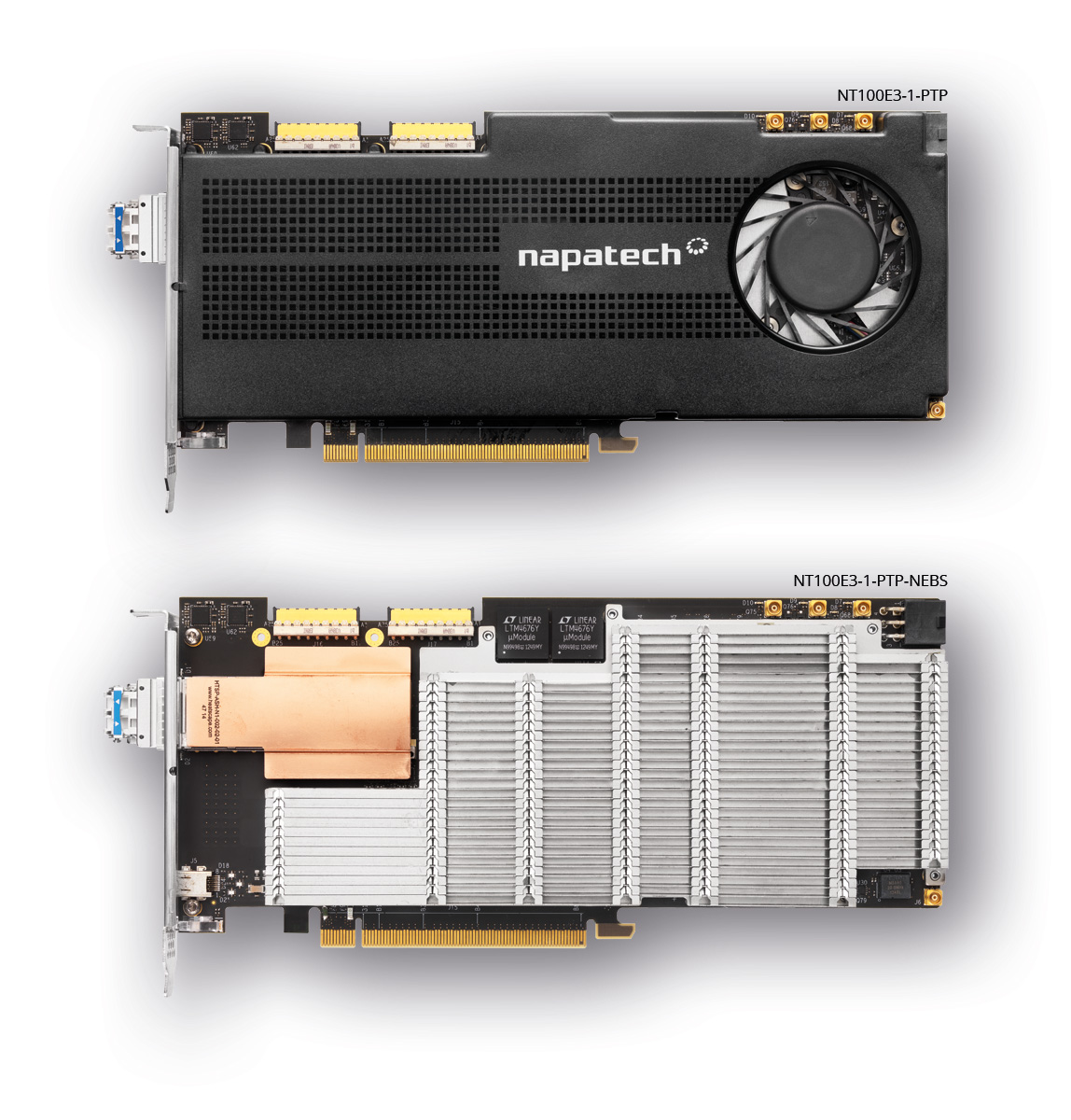 FEATURE HIGHLIGHTS
Scalable Pipeline Architecture
Network ports: 1 × CFP4
Capture of Ethernet LAN: Full 1 × 100 Gbps
Zero packet loss for all frame sizes
8 GB DDR3 RAM buffer (640 ms at 100 Gbps)
Typical CPU load: < 5% of one core
Addressing up to 1 TB application buffer memory
Packet or segment delivery to application
Hardware accelerated:
Load distribution across up to 128 CPU cores
4 ns time-stamping
Frame and protocol information
Filtering based on e.g. L3/L4 criteria
GTP, IP-in-IP, GRE and NVGRE tunneling support
Slicing at fixed or dynamic offset
RMON1 counters, including jumbo frames
IEEE 1588-2008 PTP and PPS time synchronization
OS time synchronization
Easy-to-integrate API
Linux and libpcap
NAPATECH-SUPPORTED APPLICATIONS
Napatech accelerators enable OEM vendors to build high-performance network appliances based on standard servers. Examples of applications include:
Revenue and services optimization
Quality of experience optimization
Financial latency measurement
Customer experience analysis
Data loss prevention
Virtualized activity analysis
Cyber defense
Fraud detection and compliance management
Infrastructure management and security
Network and application performance
Troubleshooting and compliance
SPECIFICATIONS
GENERAL FEATURES
Full line-rate processing for all frames from 64 bytes to 10,000 bytes – keep or discard erroneous frames
IEEE standard: IEEE 802.3 100 Gbps Ethernet support
Physical interface: 1 × CFP4 ports
Supported CFP4 modules: singlemode LR4
Data rate: 1 × 100 Gbps
Typical CPU load: < 5%
Time formats: PCAP-ns/-μs and UNIX 10 ns
Time resolution: 4 ns
Stratum 3 compliant TCXO
Pluggable options for IEEE 1588-2008 PTP and PPS time synchronization
PTP slave in IEEE 1588-2008 default and telecom profiles
ACCELERATOR SOFTWARE
Operating systems: Linux
Napatech API for high performance and advanced features
libpcap
IEEE 1588-2008 PTP stack
SDK tools included in source code for debugging and prototyping and as application examples
ACCELERATOR HARDWARE
Bus type: 16-lane 8 GT/s PCIe Gen3
8 GB onboard DDR3 RAM
Flash: Support for two boot images
Built-in thermal protection
Physical dimensions: 3/4-length and full-height PCIe
Weight excluding CFP4 LR4 module:
NT100E3-1-PTP: 455 g
NT100E3-1-PTP-NEBS: 475 g
MTBF according to UTE C 80-810:
NT100E3-1-PTP: 259,880 hours
NT100E3-1-PTP-NEBS: 311,435 hours
Power consumption including CFP4 LR4 module:
NT100E3-1-PTP: max 75 Watts
NT100E3-1-PTP-NEBS: max 75 Watts
ENVIRONMENT FOR NT100E3-1-PTP
Operating temperature: 0 °C to 45 °C (32 °F to 113 °F)
Operating humidity: 20% to 80%
ENVIRONMENT FOR NT100E3-1-PTP-NEBS
Operating temperature: –5 °C to 55 °C (23 °F to 131 °F) measured around the accelerator
Operating humidity: 5% to 85%
Altitude: < 1,800 m
Airflow: >= 2.5 m/s
Operating humidity: 5% to 85%
REGULATORY APPROVALS AND COMPLIANCES
PCI-SIG®, NEBS level 3, CE, CB, RoHS, REACH, cURus (UL), FCC, CSA, VCCI, C-TICK